Serving the Eastern United States  for over 20 years.  We are located in the Blue Ridge Mountains of VA near the NC/TN/SC area and are here to serve your log home needs.  We offer turn-key log home restoration services and top-quality products for your log home projects.   
Top Quality Log Home Products
Log Restoration Services
Media Blasting
Log Replacement
Staining
Chinking
Preservative Treatments

Call today at 336-325-9986

 or E-mail us now.



Years of our own Personal hands on experience have shown us that Perma Chink Systems, Inc. water based products work great for your every log home need, while allowing it to breathe without trapping water.  
We are set up to travel and offer only the best of the best restoration services available in the US.   We have spent years researching and following through with our clients and associates in regards to what works Best.  With over 20 years in the building industry specializing in Log Homes we can help you to accomplish all of your Log Home needs.  With over 40 years combined experience we do the job right for you the first time.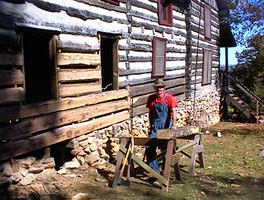 Cedar siding homes can also be media blasted and re-stained to look like new again. We have had great success removing stains from all types of wood even creosote coated wood.   Bricks also can be blasted to remove stains, paints, and years of dirt.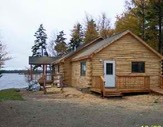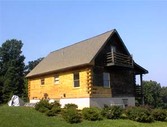 Media Blasting with corn cob grit or New Age Media Blast gives you a nice clean surface to apply new stains.         This is one example of just how completely that the old stains can be removed from logs.  Why media blast?  Removes oil based stains so you can apply a water based stain, removes dark stains so you can brighten your logs with a new lighter color, and in some homes pressure washing simply is not an option due to water leakage.    
This process uses a dry ground corn cob grit or recycled glass ground to a beach sand or finer consistency which is safe for the environment and can even be put in a compost pile.  We have been professionally blasting log homes for over 15 years and have the experience to do the job right.         
We use OSHA approved equipment and can travel most anywhere in the Continental US to do this work.  Don't hesitate to Contact US with your questions.  
Call today at 336-325-9986 or E-mail us now.
Website Design Services Copyright 1993- 2014 Connie Beamer