Saving America's Log Homes One Home at a time.
We offer top quality log home restoration services and top quality products for our clients.  Our restoration specialists have a combined 40 years experience in restoring your log home to its natural beauty. Restoring a log home can be a daunting task if you are unfamiliar with log restoration and we are here to help you.                                     
Professional Restoration, Stain application, Chinking, Media Blasting and log restoration help is just a call away. Contact us today at 336-325-9986 or 
Contact Danny Beamer at Beamer's Better Builders at www.bbbloghomes.com or click here to e-mail them now.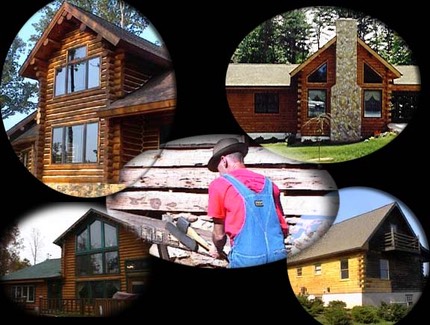 Below you will find a brief summary of some of the different restoration products available on our website.   If you would like to order any of the products here please follow the links in the drop down menus above.  If you need assistance  or have any question please don't hesitate to call us at 336-325-9986.
Providing Log Home Material Sales, Log Home Supplies, Log Home Consultations and serving most of the US.   Protecting your log home investment is our goal.      

We don't just sell you a product, we guide you through the process from start to finish.  Check out our 
.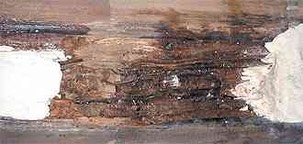 Epoxy Putty Wood Restoration System
E-Wood is a putty-like, non-shrinking, epoxy filler used to fill in missing sections of logs or dimensional wood members. E-Wood will form a permanent bond to most rigid surfaces. Porous surfaces should always be treated with a compatible, low viscosity epoxy system such as M-Balm.
Use E-Wood to replace missing sections of window sills, frames, furniture, or any wood structure. Use it to add new sections to completed structures.

After repair with E-Wood, restored wood can be shaped with your normal wood working tools, including saws, sanders, planes, routers and drills.


M-Balm and E-Wood Epoxy Wood Rot Repair Kit
 
As an alternative to wood replacement, Perma Chink has developed two epoxy products to restore rotten wood.  M-Balm can restore the integrity to weak or spongy wood. E-Wood serves as wood putty for rebuilding missing sections of logs, millwork, or other wood members. Prior to use, treatment with Shell-Guard preservative is recommended to halt the spread of dry-rot

An example of
Log Home Restoration
Work on a home built 15 years. ago using over 100 year old  tobacco barn logs.  The new logs were hand hewn the Old Fashion way to match the remaining of the home.   This type of work can be performed on any style Log Home including D-Logs, Swedish Cope, Hand Hewn, Appalachian style and all others milled or un-milled.  

We not only specialize in loghomes and offer you the Best quality you can expect, but you can expect nothing less than the best when you hire us to complete your project for you.   

Shell-Guard Ready-To-Use Wood Preservative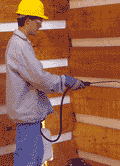 Shell-Guard RTU is a ready-to-use borate-based formulation that contains the same active ingredient and glycol carriers that have proven so successful in Shell-Guard Concentrate. 
 Like Shell-Guard Concentrate, Shell-Guard RTU is colorless, odorless, has a very low level of toxicity to people and pets and is just as effective for preventing wood decay and insect damage to interior and exterior wood members. But since it is ready-to-use, you can pour it right out of the container into your sprayer without the fuss of measuring, mixing and stirring.
Besides its convenience, other advantages to Shell-Guard RTU include its stability and relatively quick drying time. Your logs will be ready to stain within one to three days after a Shell-Guard RTU application.
•  Contains no ethylene glycol
•  EPA-registered
•  No measuring or mixing required
A Penetrating Broad Spectrum Wood Preservative for the Protection and Treatment of Wood Against Decay, Termites, Carpenter Ants and Wood Boring Beetles.

CALL TODAY 336-325-9986
Website Design Services Copyright 1993- 2014 Connie Beamer