FREE SHIPPING ON ADVANCE  5 GALLON PAILS
Serving the Eastern United States  for over 20 years.  We are located in the Blue Ridge Mountains of VA near the NC/TN/SC area and are here to serve your log home needs.  We offer turn-key log home restoration services and top-quality products for your log home projects.   
Lifeline Advance Clear Exterior Top Coat
Lifeline Advance works just like the clear-coat on your car to protect the color coat underneath. It extends the life of the finish system while adding depth and highlights to the appearance. It makes your exterior walls easier to keep clean.
Lifeline Advance has the right permeability to keep the film breathable while repelling liquid water.Lifeline Advance is the second component in our exterior wall finish system that includes a limited warranty when used with Lifeline Ultra-2.
You'll never have to worry about water marks or accidental spills because of the diamond-hard finish.  And since Acrylic Gloss is non-yellowing, the clear beauty of your home's finest wood will always come shining through.
Available in 5-gallon and 1-gallon pails. 
Features and Statistics
An interior clear acrylic topcoat for finishing sealed or stained wood with the toughness and durability of a urethane finish.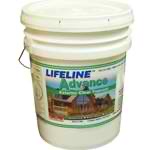 Mold and mildew protection

Non-yellowing

Low VOC's

Quick drying

Gloss or Satin Finish

Stain Guide
FREE SHIPPING ON ULTRA-7   5 GALLON PAILS             Prices effective July 1, 2016
Shelf Life




1 Year

Never allow to freeze


Application Temperature

Application Methods

Airless Sprayer
Fine bristle brush

Back-brushing required

Surface Preparation

Frequency




1 coat over Lifeline Exterior, Ultra-2, or Ultra-7 stains

1 coat 24 -36 months later, then only as required

Special Instructions

Stir finish every 15-20 minutes

Avoid applying in direct sun

Drying Time

Dry to the touch in 1 hour
Cures within 3 days

Coverage Rates

800 to 1000 sq ft/gallon on finished wood





FREE SHIPPING on 5 gallon pails only*

Advance Gloss/Satin

5 gallon
(50 lb)


1 gallon (10 lb)
$ 360.00
FREE SHIPPING on 5 gallons
Advance Gloss

$  82.00 Advance Gloss
 

5 gallon
(50lb)


1 gallon (10lb)

$ 360.00
FREE SHIPPING on 5 gallons
Advance Satin
 
$   82.00 Advance Satin



Prices Effective July 1, 2016

Forms of Payment:
We accept MASTERCARD, VISA, DISCOVER CARD and AMERICAN EXPRESS.
Shipping:
We ship to your job site. 
All orders are shipped within 24 hours of approval.
FREE SHIPPING on select 5 gallon pails to the contiguous 48 lower States.
Substantial freight discounts may occur on shipments weighing 200 pounds or more.

Terms:
Prices effective July 1, 2016
Prices are subject to change without notice.  All prices are in US dollars.
Seller not responsible for consequential damages. 
All returns require advance approval number and will be subject to 15% restocking charge.