Log and Timber Fasteners 
Log Boss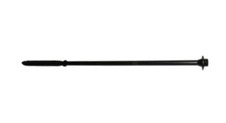 There have been some improvements to the Log Boss fasteners.  The wings have been brought back and the redesigned head allows for better counter sinking and a 5/16" hex head driver.
While reducing friction between the wood and the shank the wings help clear out the splinters created as the fastener pulls down into the wood.  Less torque is required to set the fastener into place.  
Features and Statistics:
Maximum holding power

Superior Strength

Less Work
3" thread offers greater grip for pulling logs in place
Larger shank diameter increases overall strength and pulling power
NO Pre-drilling 
NO washer needed. Drive it one time and forget it!
Flat head design easily counter-sinks maximum pulling power
Replaces the need for spikes or lag-bolts
Lubrication coating speeds set time
Large threads prevent stripping out
Teflon coating exceeds FM 4470 corrosion standard
LOG BOSS SCREWS
Click "Add to Toolcart" to BUY NOW
Screw Size
Quantity
Price per case
6"

Box (250 ea)
21 lbs
$ 165.00


7"

Box (250 ea)
22 lbs
$ 175.00


8"

Box (250 ea)
23 lbs
$ 190.00


9"

Box (250 ea)
28 lbs
$ 195.00


10"

Box (250 ea)
31 lbs
$ 205.00


11"

Box (250 ea)
34 lbs
$ 240.00


12"

Box (250 ea)
37 lbs
$ 265.00


13"

Box (250 ea)
40 lbs
$ 285.00


14"

Box (150 ea)
27 lbs
$ 190.00


15"

Box (150 ea)
$ 192.00


16"

Box (150 ea)
$ 206.00


GRIP STRIP                    

Trapezoidal Foam Backer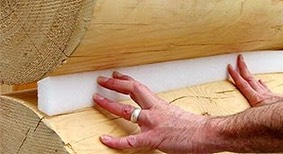 Grip Strip is chemically inert closed-cell polyethylene that is shaped to fit between log courses to form a flat surface for the application of Perma-Chink or Energy Seal.  This makes it easier to maintain a consistent thickness of sealant across the seam, reducing the amount of sealant required and improving the sealant's performance.
Features and Statistics:
Provides a firm chinking or caulking surface
Shape and texture allow it to be easily installed without using staples, nails or glue
Repels water
Compatible with all commonly available synthetic chinking
It helps prevent blistering of chinking surfaces
It provides extra insulation against heat loss
Backer Rod
Closed Cell Foam Rope
Backer Rod is extruded closed-cell polyethylene rod that is used in cracks, checks and gaps before filling them with sealant such as Perma-Chink, Energy Seal and Check Mate 2.  Caulk joints should not be more than 3/8" thick and Backer Rod provides a way to fill a deep crevice or gap while maintaining the proper sealant thickness for maximum performance.  Backer Rod should also be used in checks over 1/4" wide before applying Check Mate 2.
Features and Statistics:
Closed cell polyethylene
Will not absorb water
Heat and cold stable
Should be used to assure proper thickness of sealants including Perma-Chink, Energy Seal and Check Mate 2
Sizes 5/8", 3/4", 1", 1-1/4", 1-1/2", 2"