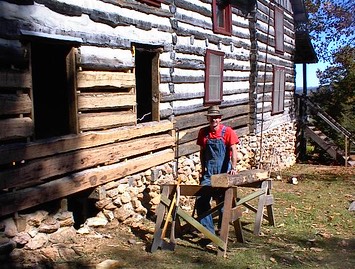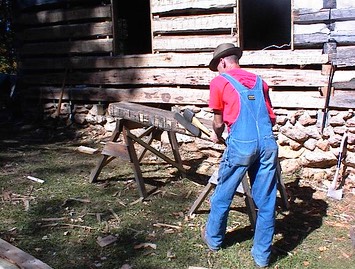 Master Craftsman at work using a broad ax making Hand Hewn Logs to match the Turn of the Century Style Logs on this Log Home.
This Log Home Restoration is on a home constructed 10 years prior with the use of 100 year old Tobacco Barn Logs.  This is one example of how log home restoration work even on the bottom of a row can be removed and replaced safely.  Any foundation and flashing problems can be corrected at this stage of restoration.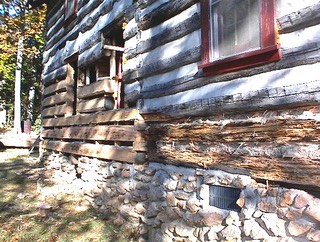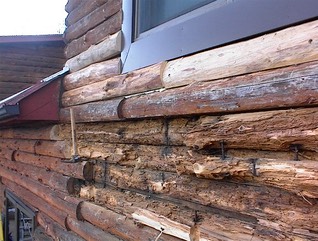 With over 20 years specializing in Construction and the Log Home Industry we can help you accomplish your Log Home Restoration Goals. Log Replacement or Log Home Restoration work should only be performed by professionals. Your home needs extra attention during the work to make sure that your supporting walls remain supported.
If your log home has structural damage, log decay, or insect problems, we can help. In the process of repairing your home we also advise and look for any other problems that exist or may arise. Some of these problems do not show up until the restoration process starts. We are skilled in all areas of construction from electrical, plumbing, and foundation work just to name a few, insuring a complete restoration. 
One of our goals before during and after the restoration process is to educate the homeowner. It is important for the homeowner to understand the process and to learn to prevent future problems. With the proper maintenance schedule every Log Home can truly be a dream home. We also offer follow up maintenance services to our clients.
We can professionally work on any style of log home or log siding. We can take any style home and add log siding to it. All work is performed by professionals and in a professional and timely manner. We take great care in protecting your home during the restoration process.
Depending upon your Log Home needs you may or may not need Professional help with your particular situation. Please feel free to call us or email us for a Free Consultation.
We also provide labor for Corn Cob Blasting, caulking, stain application, preservative application, and carry a full line of products for purchase for the do it yourselfer. Please call us at 336-325-9986 for more details on the products and services we offer or E-Mail us for further information.
Thank You for your interests in our Services. We appreciate this opportunity to do business with you.