A penetrating Broad Spectrum Wood Preservative for the protection and treatment of wood decay and the following: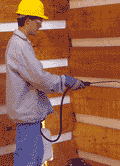 Termites

Carpenters Ants

Wood Boring Beetles

Wood Deacay Fungi

Powderpost Beetles 

A preventative and remedial treatment

No measuring or mixing required

Deep Penetrating

Contains no ethylene glycol

EPA Registered

Colorless

Odorless

Quick Drying
Shell-Guard RTU is a ready-to-use borate-based formulation that contains the same active ingredient and glycol carriers that have proven so successful in Shell-Guard Concentrate.
Like Shell-Guard Concentrate, Shell-Guard RTU is colorless, odorless, has a very low level of toxicity to people and pets and is just as effective for preventing wood decay and insect damage to interior and exterior wood members. But since it is ready-to-use, you can pour it right out of the container into your sprayer without the fuss of measuring, mixing and stirring.
Besides its convenience, other advantages to Shell-Guard RTU include its stability and relatively quick drying time. Your logs will be ready to stain within one to three days after a Shell-Guard RTU application.
Use Shell-Guard RTU to prevent wood decay and insect damage to all interior and exterior wood.
Use Shell-Guard RTU to eliminate wood destroying insects and wood decay.

Shell-Guard® RTU is a formulation of boron compounds with additives that allow the active ingredient to penetrate throughout the wood. Shell-Guard RTU offers far greater wood protection than other preservatives that treat only the surface.
(Shell-Guard RTU is not available in California or Canada)
An application of Shell-Guard RTU is permanent as long as the wood remains protected with Lifeline stains.
Coverage Rate at 150-250 sq. ft. per gallon.  Application is incredibly easy.  WIth Shell-Guard RTU, you have two options for permanently treating wood.   Shell-Guard RTU is a liquid applied by spraying and brushing onto clean, bare wood.  Applied to all surfaces after construction and before finishing, Shell-Guard RTU easily penetrates and quickly protects.  Alternatively, you can drill and inject Shell-Guard into insect galleries and hotspots.
FEATURES AND STATISTICS
Shelf Life




Application Temperature

Application Methods

Low-pressure Sprayer
Fine-bristle Brush

Surface Preparation

Clean and Dry
Bare wood
Free of mold and mildew

Frequency




Permanent in wood that is kept sealed

# of Coats


1 Coat application inside and outside

Drying Time
To place your order today, use the Add to Tool Cart links,  E-mail, or call 336-325-9986 now.
Forms of Payment:
We accept Master Card, Visa, Discover Card and American Express
Shipping:
We ship to your job site.  All orders are shipped within 24 hours of approval.  
Substantial freight discounts may occur on shipments weighing 200 pounds or more.
Terms:
Prices effective March 1, 2014.  
Prices are subject to change without notice.
All prices are in U.S. dollars.  Seller not responsible for consequential damages.  
Returns require advance approval number and may be subject to a 15% restocking charge.