FREE SHIPPING ON ALL  5 GALLON PAILS
Serving the Eastern United States  for over 20 years.  We are located in the Blue Ridge Mountains of VA near the NC/TN/SC area and are here to serve your log home needs.  We offer turn-key log home restoration services and top-quality products for your log home projects.   
Sure Shine Floor Finish is great for use as a Log Home Floor Finish or hardwood floor finish for any home.  Sure Shine Floor Finish was developed specifically for protecting wood floors where a durable clear finish is desired.  Sure Shine allows you to use fewer coats while still achieving a deep clear finish. 
Sure Shine is the most durable indoor clear finish Perma Chink offers, so durable you can use it on any interior wood surface you desire to have a lustrous or deep-shine finish.  Low odor finish that is more durable than solvent type finishes providing superior resistance to alcohol, water, and most household chemicals.   Sure Shine cures to a smooth, hard surface resisting scuff marks, abrasions and preventing discolorations.  Fast-drying waterborne polyurethane floor finish. Professional quality for the do-it-yourself.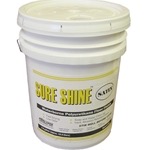 Non-yellowing, 
Non-flammable
Fast Drying
Multiple coats in one day
Bonds to old solvent finishes

Made in U.S.A.                                                                     
Available in 5-gallon and 1-gallon pails. 
 Color:  Clear with a satin or gloss finish.
Coverage Rate 400 to 600 sq. ft. per gallon.
Prices effective July 1,  2016
Shelf Life




1 Year

Never allow to freeze.


Application Temperature

Application Methods

Pad-style floor applicator

Surface Preparation

Clean and dry

Wax, soap and oil free

Frequency




# of Coats

2 to 3 coats on new floors.

1 to 2 coats for re-finishes.

Drying Time

Dry to the touch in 1 to 3 hours.
To place your order today, use the Add to Tool Cart links,  E-mail, or call 336-325-9986 now.
Forms of Payment:
We accept Master Card, Visa, Discover Card and American Express
Shipping:
We ship to your job site.  All orders are shipped within 24 hours of approval.  
Substantial freight discounts may occur on shipments weighing 200 pounds or more.
Terms:
Prices are subject to change without notice.
All prices are in U.S. dollars.  Seller not responsible for consequential damages.  
Returns require advance approval number and may be subject to a 15% restocking charge.