Professional Finish Remover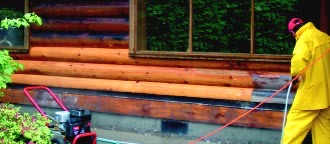 Strip-It is a water-based, non-hazardous PH neutral stain and finish remover.  Stripit does not darken the wood.   Stripit removes multiple layers in one application.  Stripit is odor free and can be used for interior and exterior applications   It will not raise the grain. 
Stripit contains no harsh chemicals, is biodegradable and non-flammable and unlike caustic strippers, Smart Strip will not darken nor discolor the wood.
    Shelf Life        

2 years - protect from freezing

Application Temperature
Application Methods

Safety equipment, airless sprayer, brush or roller, paint scraper, rags, and a pressure washer capable of generating at least 500 to 600 psi.

Surface Preparation
Special Instructions


One to two applications, depending on severity 
Apply from bottom-up, rinse from top-down
Rinse thoroughly 




STRIPit
5 gal     (48 lb)

$ 262.50




Stripit Coverage Rate
One Coat
45-55 square feet per gallon





Removes most finishes from logs, siding and deck surfaces. 
Will not harm chinking and sealants 
Will not corrode or discolor alumninum or other metals 
Environmentally friendly. 



Prices Effective  September 15, 2014

To place your order today, use the Add to Tool Cart links,  E-mail, or call 336-325-9986 now.
Forms of Payment:
We accept Master Card, Visa, Discover Card and American Express
Shipping:
We ship to your job site.  All orders are shipped within 24 hours of approval.  
Substantial freight discounts may occur on shipments weighing 200 pounds or more.
Terms:
Prices effective March 1, 2014.  
Prices are subject to change without notice.
All prices are in U.S. dollars.  Seller not responsible for consequential damages.  
Returns require advance approval number and may be subject to a 15% restocking charge.