With over 20 years specializing in the Construction and the log home industry we can help you accomplish your log home restoration needs or if you simply need log home products for your project we can help you out.
Your primary defense against damage to your Home is the exterior finish of your home, therefore it is important that your finish be not only attractive but as durable as possible. We offer Perma-Chink systems products, a family of naturally wood finish products providing everything a finish should.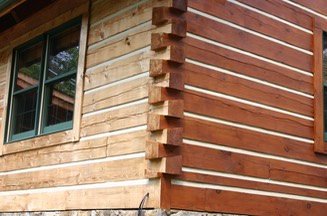 Chinking Advantages:
Seals open gap

Eliminates heat loss and air infiltration

Looks and feels like traditional mortar
Pure Acrylic
Adheres to logs
Stretches while maintaining a tight seal and following log movement.
We offer full installation services in most states.   We provide service from New York to Florida, Illinois to Alabama.  
Services Offered
Media Blasting (glass or corn cob)
Chinking
Staining
Caulking
Preservative Treatments
Log Repair and Replacement