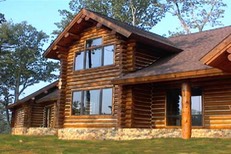 For over 20  years we have offered the best in Log Home Services from Building new homes to Restoring log homes over 150 years old. As a small family owned business we have always taken great strides to utilize only the best products in the marketplace and to work with each customer on an individual basis to fit their needs.     
We offer competitive pricing on all Perma Chink Products and will instruct you in the proper application techniques when you are ready to apply the products to your home or call us and we can give you a free estimate     
The New Millennium has brought with it many changes and renewed Faith in our Country and its people.  Now offering 20 years of experience in the building industry and over 15 years in the Log Home Sales, Service and Supplies industry.  Danny works closely with other licensed Contractors to greater meet the needs of his clientele.
Danny offers full restoration services to meet all the needs of the Proud Log Home Owners which wish to restore the natural beauty of their Log Homes.   In 2002 Danny's wife decided to open The LOG HOME SUPER CENTER in order to meet the needs of our customers which would like to do the work themselves.  
We can restore the natural beauty to your Log Home anywhere in the United States and some areas of Canada.   Danny can use any product line you wish to use and help advise on the type of work that needs to be performed to best suit your Log Home Goals.  
With so many Log Home Owners looking for the best Top Quality Workmanship in the Industry, Danny's reputation for detail, customer education and Top Quality Workmanship have become some of his trademarks among Industry Professionals.   He continues to offer customers a level of service based upon their individual needs and long term desires without compromising quality or workmanship.  
Website Design Services Copyright 1993- 2014 Connie Beamer