With over 15 years specializing in Construction and the Log Home Industry we can help you accomplish your Log Home Sealing Goals.
New Home with Perma Chink Lifeline Stains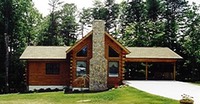 Perma Chink Chinking on an Alpine log home
Your primary defense against damage to your log home is the exterior finish of your log home. Therefore it is important that your log home finish be durable and attractive.  We can use one of many products to help accomplish this goal or if you have a particular product in mind we can use the product of your choice. There are many brand name products on the market and if you have a preference which we do not carry please let us know.
Lifeline Product Advantages:
Resists water 

Water based

Non-flammable

Practically odorless

Breathable allowing logs to dry and stabilize

inhibit mold and mildew

Highlights wood grain and texture

No build up

Easy to apply and Maintain
Perma Chink products don't just stain your home they distinguish it.
Your tools clean up easily with just soap and water. For maintenance, simply clean old surfaces and apply a fresh coat to weathered sides of the house. 
The LifeLine family of stains and finishes provides the ultimate protection for your beautiful log home.
We also provide labor for Corn Cob Blasting, Caulking, Chinking, Stain application, preservative application, and carry a full line of products for purchase for the do it yourselfer.  Please call us 336-325-9986 for more details on the products and services we offer or 
E-Mail us for further information.
Thank You for your interests in our Services. We appreciate this opportunity to do business with you