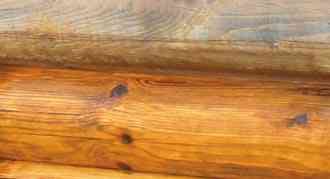 OXcon (oxalic acid concentrate) is a powerful blonding agent that brightens wood surfaces and returns gray, weathered wood to a fresh, clean appearance.

OXcon will also remove rust stains from around nails, spikes, and screws. Use OXcon on logs, decks, porches, railings and other weathered wood surfaces.
Shelf Life

Application Temperature

Application Methods

Airless Sprayer
Roller
Brush or broom

Surface Preparation

Brush off any debris from the new wood.
Strip or sand off the build up fungi coat and wipe it down with a damp cloth or sponge prior to the application.

Frequency

As required on bare, darkened wood.

Special Instructions

Use liberal amounts (a flowing coat) over a specific areas.
Rinse well.
Apply from bottom up, rinse top-down.
10-15 minutes, do not allow to dry.
Product Price List
Effective March 1, 2014
To place your order today, use the Add to Tool Cart links,  E-mail, or call 336-325-9986 now.
Forms of Payment:
We accept Master Card, Visa, Discover Card and American Express
Shipping:
We ship to your job site.  All orders are shipped within 24 hours of approval.  
Substantial freight discounts may occur on shipments weighing 200 pounds or more.
Terms:
Prices effective September 15, 2014.  
Prices are subject to change without notice.
All prices are in U.S. dollars.  Seller not responsible for consequential damages.  
Returns require advance approval number and may be subject to a 15% restocking charge.