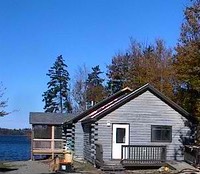 With over 20 years specializing in Construction and the Log Home Industry we can help you accomplish your Log Home Restoration Goals.  
Recycled Glass Media and Corn Cob Blasting media offer state of the art removal of existing stains and weather discoloration from years of age on a Log Home.  Restoring the wood to it's natural beauty and preparing the wood for better absorption and application of preservative treatments and Stains.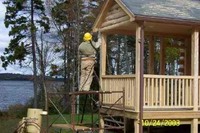 Media and Corn Cob Blasting need to be done with great care using heavy duty commercial equipment.  Proper protection with a special hood and air intake system is used to protect the applicator, whom uses OSHA approved blasting protective gear. Glass Media and Corn Cob blasting are both a waterless process using finely ground particles of Corn Cobs or recycled glass which are safe for your  plants, shrubs and the environment.  Works great on new logs as well, removing road grime from transporting them to the job site and discoloration from being left unstained during construction.
The applicator takes great care in making sure that your Log home is restored to a natural beauty which enables new stain and preservative treatment to penetrate the logs for a nice new look and protection that can't be obtained by applying preservatives and stains over existing products.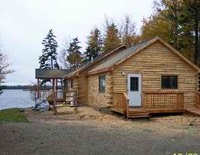 We use Media and Corn Cob Grit of varying sizes to produce a great quality finish for your preservative and stain treatments.  We use only the finest MEDIA OR CORN COB GRIT ensuring you a TOP QUALITY JOB.


Labor is available to perform Media or Corn Cob Blasting, apply chinking, caulking, stain application, preservative application, log restoration and we carry a full line of products for purchase for the do it yourselfer.  Please call us for more details on the products and services we offer or E-Mail us for further information.
Corn Cob Blasting truly is one of the best investments you will make when preparing your Log Home for a New Stain or Color.  Corn Cob Blasting is much faster than strippers and Sanding, safe for the Environment too.



No water is needed for corncob blasting,  reapplication of preservatives or stain is immediate